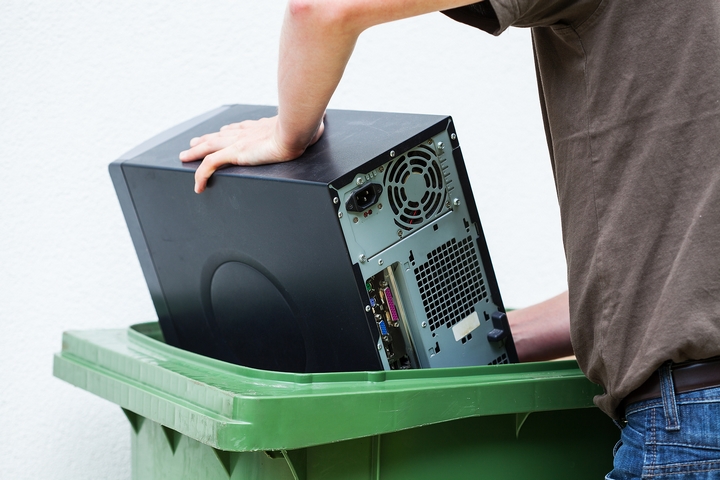 Computer recycling has become a fact of life in the modern world. Nearly half of the currently existing home computers were bought within the last two years, usually to replace an older model. When coupled with the growing importance of preserving scarce landfill space and reducing the community's environmental footprint, it is plain that it is more important than ever to recycle old computers rather than simply throw them away. Fortunately, Canada has a growing number of ways to easily recycle old computers.
Company Recycling Programs
A growing number of companies offer recycling programs for individuals who have purchased their computer or other electronic device. In most cases, this requires that the purchaser paid an environmental recycling fee at the time of purchase, although some manufacturers will allow their products to be recycled for free. Individuals who are seeking further information on this should check their manufacturer's website or if they purchased their computer from a local retailer, they can check with the manager to see if they qualify for a company recycling program.
Local and Provincial Recycling Programs
Many local and provincial governments have established recycling programs to allow individuals to drop off used computers and other electronic equipment. For example, the Alberta Recycling Management Authority established an electronics-recycling program in 2004, which currently has over 325 collection centers that the public can use for a small fee. Other provincial and local government recycling authorities function in a similar manner. Individuals seeking information on this can check their municipal or provincial government's website for information about any local recycling programs.
Non-Profit Recycling Agencies
There are a number of private agencies that hold events to gather and recycle electronic items. In some cases, these groups may have a presence on Facebook or other social media sites, allowing an individual to sign up in order to be alerted when a local collection event takes places. These events are usually free to use and contribute any recycling profits to schools and other non-profit organizations.
Donating a Computer to a Charity
Finally, many recycling opportunities may not involve the destruction of the computer. Schools and other non-profit organizations often accept computers for use by their students and other patrons. This requires that the computer be in operating condition and not all models will be accepted for use. In many cases, these groups will use Facebook or other social media sites to announce what type of computers or computer components they are looking for. In addition, some of these groups will also accept non-functional computers for conventional recycling.
Preparing the Computer for Recycling
An owner interested in computer recycling should take several steps when preparing his or her computers for disposal. The owner should remove all sensitive personal and financial information from the computer's hard drives before it is recycled. This is especially important if the computer is to be donated in working condition. Finally, the owner should include all cables and connectors that came with his or her computer.
Recycling a computer is an excellent way to protect the environment and help reduce the cost of future electronic items. Because of this, recycling services in Canada are certain to continue to become more common in the future.